Once you have successfully freed yourself from the Sinatra Imperative, you have taken the first major step toward artistic independence. Suddenly, all the world is available for your creativity, and all the world's people as well. When you have stopped believing that certain people are more important than others, then you can begin to believe that every person in the world needs beauty, needs story, needs spiritual understanding. Right now, you may have doubts. Right now, you may have accepted what so many people have told you time and time again: that art is unnecessary, art is a luxury, art is boring, art is only for certain kinds of people, art is for the educated elite.
None of this is true. There is no one in the world who, deep in their heart, doesn't long for the things art offers.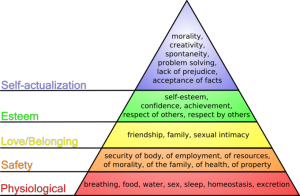 Our culture is awash in art. The fact is that it is almost impossible to avoid it. You drive down the highway and you see billboards — that's art; you turn on your radio as you drive — that's art; you watch movies, television — that's art. But most people don't think of those things as art, they think of them as commerce. It's not. The reality is that people are not only absorbing art constantly, but they are creating it as well. They are knitting, weaving, making furniture, growing gardens, telling bedtime stories, creating scrapbooks, taking pictures to post to Facebook, painting rooms, doodling, telling jokes and family stories. This impulse comes from a a human need to create. According to Genesis, humankind is created in God's image, and God is first and foremost a creator. Creativity is not a right, it is a necessity — it ought to be included on the first tier of Maslow's hierarchy of needs!
In order to achieve artistic independence, it is important that you rid yourself of the sense that what you do is unimportant. It is important to someone, and your job is to find those people. They are out there, and because you have freed yourself from placing your self-worth in the opinions of only certain kinds of people in certain places, you can go in search of the people who need what you have to offer. Suddenly, you are not competing with many others for the attention of a small group, but instead the whole world is available to you.