Once you have freed yourself from being chained to a place, and granted yourself permission to see what you want to do as not only important to you but also important to others as well, you are ready to begin your journey.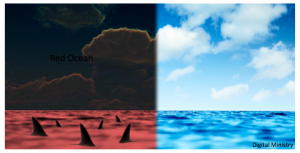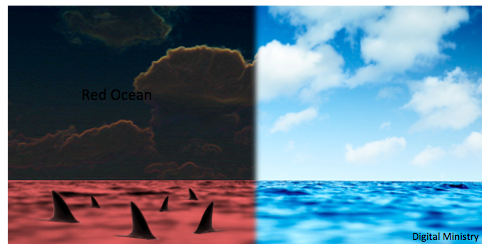 For those seeking to live an independent creative life, it is important to find a "blue ocean." In their intriguing book Blue Ocean Strategy: How to Create Uncontested Market Space and Make the Competition Irrelevant, authors W. Chan Kim and Renee Mauborgne draw a distinction between what they call "red ocean" markets and "blue ocean" markets. Red oceans are places or industries where there are so many competing companies that the "cutthroat competition turns the red ocean bloody." In red oceans, "companies try to outperform their rivals to grab a greater share of existing demand. As the market gets crowded, prospects for profits and growth are reduced [and] products become commodities."
In the theater world, New York City is a deeply red ocean, filled with hundreds and hundreds of shows at any time, each competing for attention from a finite number of theatergoers. In addition, theater artists who possess an employee mindset ("God, I hope I get it!") find that they, too, are in a red ocean with thousands of other artists competing for a handful of paying positions. When asked why they chose this blood-red ocean, these people will usually reply, "That's where the jobs are." Except they're not. According to Actors Equity Association, 57% of its membership didn't make a dime in theater during the previous season, and almost 90% would have made more working a minimum wage job. The ocean is made bloody in a battle for a few measly crumbs. "To focus on the red oceans," Kim and Mauborgne continue, "is therefore to accept the key constraining factors of war — limited terrain and the need to beat an enemy to succeed."
A blue ocean, on the other hand, is "defined by untapped market space, demand creation, and the opportunity for highly profitable growth" — i.e., "market space that is uncontested." Kim and Mauborgne say that "to win the future, companies must stop competing with each other. The only way to beat the competition is to stop trying to beat the competition." Interestingly, one of their examples is the Cirque du Soleil, who expanded the boundaries of the circus industry — they ditched expensive and increasingly objectionable animal acts and high-priced clowns, and instead mixed acrobatics with theater, incorporating music, story (however slight), and spectacle. Cirque du Soleil, like most blue ocean creators, "pursue differentiation and low cost simultaneously."
One way to create a blue ocean in theater is to move to a place where the competition is scarce. Zack Mannheimer, for instance, who had founded the Subjective Theatre Company in Brooklyn in 2001, left Brooklyn in the summer of 2007 in search of a new home. On a blog he kept detailing his plans, Mannheimer wrote:
I am moving from Brooklyn this fall. It would be easier for me to remain in Brooklyn where I have many close friends and family. But I find the core issue of the problems we face in America to be that of location. I am moving to open a theatre and a restaurant that practices and executes a socialistic nature. I am a Sommelier and I also produce theatre. We at STC have been producing socially conscious, political theatre free of charge for the past 6 years. We are the only free theatre company in NYC. No small feat, trust me. There are over 1000 theatre companies in NYC. That means, when you add theatre artists and theatre audiences together, over 1 million people in this ever-growing community. And that's just theatre, not to mention all the other art forms.
Mannheimer had realized that he was trying to create in a red ocean, and it was affecting not only his prospects, but the work itself:
My main problem with creating art for an audience in this area is that the majority of the people I create art with and those who come to see it, agree with my viewpoints before they even walk in the door, to create or to witness the creation. I am helping to provide a reassurance to these people. I am not challenging them on an intellectual level, or a primal level.
So he set out on a 10-week road trip across the country in search of a blue ocean. His criteria:
Population of 100,000 – 350,000
A population who leans more right than left
A place where there is little to no major theatre or culinary scene
Inexpensive real-estate
For a left-wing theater person, this was truly a blue ocean!
Ultimately, he ended up in Des Moines, Iowa, where he moved in the fall of 2007, arriving with about $100 in his pocket. Today, he is the artistic director of the Des Moines Social Club, a multi-disciplinary arts and education venue with a bar and restaurant housed in a $3.5 million converted firehouse in downtown Des Moines. "On any given night," the website declares
you may see thought-provoking theater, pop-up art galleries, circus classes, entertaining trivia competitions, live music, or art courses for kids — all happening simultaneously. There's something for everyone at the Des Moines Social Club. The Des Moines Social Club spans two buildings, multiple floors, an outdoor courtyard and features Viaduct Gallery, Kum & Go Theater, Malo Restaurant, and Capes Kafé, as well as numerous performance spaces, classrooms, and non-profit office space.
Mannheimer not only moved to a geographical blue ocean, but he expanded beyond the boundaries of a theater-only organization to create a business with a wide variety of activities that served to bring together vastly different audiences. Early on, for instance, Mannheimer rented some space to a wrestling troupe — it wasn't what he envisioned, but they had money and he needed it. On the same night they performed, in another part of the building, he scheduled a poetry-and-jazz event. After a few weeks, he noticed a few of the wrestlers standing in the back of the room listening to the poetry while they were waiting for their match. A few weeks later, the wrestlers approached Mannheimer with a confession: they were not only wrestlers, they were poets, too — could they perform some night? Soon, other wrestlers and their audience started coming to hear the wrestlers read their poetry, and some of the jazz-and-poetry crowd went over to watch the wrestling, and as a result they all started to talk to each other. A new audience was born! A new blue ocean.
This is just an example. You may not desire a multi-disciplinary organization of this size. You may have something completely different in mind. Nevertheless, the best way to find success is to locate a blue ocean of your own.
Kim and Mauborgne boil down the "Red Ocean Versus Blue Ocean Strategy" as follows: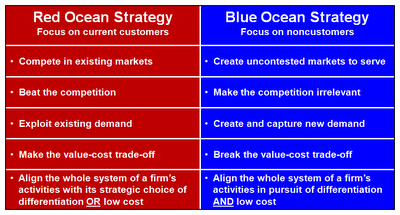 For more detail, I strongly recommend you read Blue Ocean Strategy: How to Create Uncontested Market Space and Make the Competition Irrelevant by W. Chan Kim and Renee Mauborgne.
What are your blue ocean ideas?