Welcome to Creative Insubordination!
I decided to start writing this blog because I got tired and angry.
For over seven years, I wrote the Theatre Ideas blog and wrote post after post trying to convince people working in the professional theatre that the current system wasn't serving artists, audiences, or the art itself.
I wrote about the woeful employment figures and annual incomes of most of those involved. I wrote about the "Wal-Marting of the American Theatre" and the absurdities of the centralization of so much casting in NYC, and the culpability of university theatre departments across the country for supporting this system. I wrote about the inequities of the nonprofit funding system where the wealthiest 2% of arts organization receive 55% of charitable giving. I wrote about geographical discrimination and how non-urban areas were virtually ignored by the media, by government agencies, by charitable foundation.
But when all was said and done, nothing changed.
Young people kept graduating from universities and heading off to New York City having been told by their teachers and keynote speakers at ACTF and SETC that if they just "wanted it enough," if they just "worked hard enough," if they "had what it takes," if they just "said yes," they would succeed.
Most didn't. Not because they weren't talented and intelligent, but because opportunities were few and far between.
Most spent their time working low-paying, dead end jobs doing things for which they were much too intelligent. And because they lived in New York City (or Los Angeles, or Chicago, or Boston or some other thriving metropolis), they paid an enormous percentage of their measly income on rent for tiny apartments that they shared with other "aspiring artists."  But hey, they were living the dream.
They took the few bucks they managed to scrape together and gave them away to photographers to take their resume photos every year or two, to teachers to take classes where they could still get a faint whiff of the art they love, and to clothing stores to keep their wardrobe fresh. Or maybe they pooled their money with others to rent a space and produce a showcase that only their friends attended.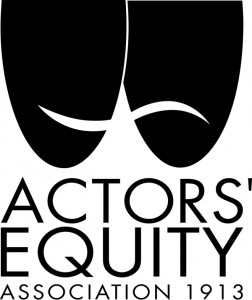 They desperately tried to get their union card, because they believed it was their ticket to a career, even though almost 60% of Actors Equity Association members didn't make a dime in the theatre the previous year and 87% made less than someone wearing a polyester uniform flipping burgers 40 hrs a week. But you're not a professional unless you have that card. Or so they had been told.
Worn out after a few years, they often struck on The Solution: graduate school. There, in exchange for the opportunity to spend two or three years "focusing on my art," often while being abused by bitter martinets masquerading as teachers, they acquired so much student loan debt that when they graduated they couldn't afford to take low-paying jobs or internships in their field because Uncle Sam was knocking at their door looking for them to start repayment.
And so it was back to the low-paying, dead end job and the tiny, expensive apartment.
Eventually, usually somewhere in their mid-30s, they give up. Maybe they want a house, maybe they want a family, maybe they want to stay in one place for a while instead of being on tour or shuttling from job to job, maybe they don't want to live in NYC, maybe they want to have a reliable income. Maybe they want to have any income at all.
Maybe they've forgotten what it was they loved about the theatre, about the arts, about being creative.
So then they take their graduate degree, and their graduate school debt, and if they're lucky they get a job at a college or university somewhere, where they teach their students the same Cinderella Myth that destroyed them.
And the cycle continues.
And I got tired of it.
---
This blog is about a New Way of Thinking and Doing.
It is about Creative Emancipation.
It is about Reclaiming the Means of Production.
It is about Leading a Creative Life.
Buckminster Fuller once said: "You never change things by fighting the existing reality. To change something, build a new model that makes the old model obsolete."
That's what this blog is about.
If you are coming here looking for advice on how to sustain yourself a bit more comfortably as you follow the traditional arts pathways, most of what I write here won't be useful to you. If you "just want to act" (or design, or dance, or…), this blog isn't for you. If you're content with looking at yourself as a commodity to be sold to employers who control whether or not you are permitted to create, this blog isn't for you. You're welcome to look around for anything you can use, of course, but unless you are open to considering very new, untried, and perhaps slightly crazy ideas, unless you can free yourself from the concepts you have been taught during your life, this blog will probably seem "impractical."
Because it is.
This blog is for the impractical, if by impractical you mean innovative. It's for people who want to take control of their own creative lives, who don't mind thinking like an entrepreneur, who are willing to broaden their concept of how they interact with others, who aren't afraid of doing more than one thing, who put doing the work above all else, who don't want anyone to tell them where they can live and when they can create, who are fed up with being told "thank you, we'll let you know," and who are willing to take a risk in order to use their talents to make the world a little bit better place.
If that's you, then I hope you will continue to visit, and most importantly, leave comments. I deeply value your input.